Welcome on Green Jewel Flores Island and the Dragon Islands Rinca & Komodo in Indonesia
Flores Island is a Green Jewel in the Indonesia Island Archipelago and still beyond the well-trodden touristic paths. Flores impresses with authenticity, scenic beauty and friendly people. Flores Island has natural wonders such as the mystical volcano Kelimutu, impenetrable jungle, beautiful rice fields, unspoiled sandy beaches as well as original villages with a fascinating culture and architecture. Flores is neighbouring in the West with the "Islands of dragons" Rinca and Komodo Island, were the prehistoric Komodo dragons, the largest lizard in the world with a maximum size of up to 3 meters are found. Although Flores is overwhelmingly Catholic, the daily life is still very much effected by magic, spirits and ancestor worship.
In 2001, we visited Flores Island for the first time. The natural beauties, the originality and the friendly people of Flores Island are fascinating us.. Since 2005 we are living mostly here on Flores Island in Maumere Bay. We organize Individual tailored private Komodo, Rinca & Flores Island tours and book Indonesian flights. You can also book your beach vacation or diving holiday on Flores or in Komodo National Park with us.
On our website you will find some examples of guided Flores & Komodo tours with experienced English or German speaking guides or facilitate private car with a reliable and experienced driver. Gladly we can offer to you also a range of selected resorts and villas on Flores for a relaxing Beach holiday or diving holiday on Flores or in Komodo National Park
---

Sightseeings, Attractions, Activities on Flores Island in Indonesia

The two unique tourist attractions that are world-famous and can only be found on Flores Island are the prehistoric Komodo dragons that live on the islands Komodo and Rinca in Komodo National Park and the tree coloured lakes of the volcano Kelimutu. Beside of this world-famous attractions there is much more to see and discover on Flores Island. Traditional villages, such as Bena and more original and unique villages, such us the Wae Rebo village are waiting to be discovered by hiking and trekking fans. You can climb active volcanoes, and the diving and snorkeling is spectacular ... » Details »

---

Selected Resorts & Villas on Flores Island

There are beautiful beaches and unique dive sites on Flores and in Komodo National Park. Gladly we make you an offer for a beach vacation and or diving holiday on Flores ... » Details »

---

We book your flight to/from Flores and all airports in Indonesia

It is sometimes difficult to book the Indonesian flights from overseas.We will assist you in...
»Details »

---

Ticketing International and Domestic flights with:

Good to know!!!

The Indonesian airline Garuda Indonesia (not on the EU "black list" ) is flying now daily to the airports Labuan Bajo and Ende on Flores Island. Starting September 2016 they are also flights to Maumere with Garuda Indonesia on Tuesday, Thursday, Friday and Sunday.

---

Individual tailored Flores & Komodo Tours

It doesn't matter whether, a short trip of 3days from Bali to the highlights Komodo Dragons or Kelimutu or extensive several day Flores & Komodo tours from 6 to 14day tours, our tours are always tailored for your individual wishes ... » Details »

---

15 Days/ 14 Nights detailed Flores & Komodo Tour with adventure & hiking

During this detailed round trip from East to West Flores including all 3 national parks (Mount Kelimutu, 17Inseln in Riung and Komodo) as well as Trekking Wae Rebo you will have an intense encounter with all facets of culture, nature, scenery and friendly people of this still very original pearl in the Indonesian archipelago. ... » Details »

---

5 Days/4 Nights Short trips
to the Highlights
Komodo & Kelimutu
Komfort or Deluxe Tour

With a short flight from Labuan Bajo to Ende it is possible to combine both main attractions of Flores 3-colored Lakes of the Volcano Kelimutu and the prehistoric Komodo Dragons. Because of the long travel times by car and last but not least due to the modest tourist infrastructure and simple accommodation in Central Flores many are discourages to visit Flores. With our short trips to the highlights, we offer a tour version with comfortable and even luxurious accommodation in boutique resort & villas » Details »

---

14 Days Ikat Tour: Sumba, Timor & Flores

Special tour on the Lesser Sunda Island to the traditional villages on the Islands Sumba, Timor and Flores where the unique Ikat weaving is still alive in their original and authentic environment. Accompanied by an expert English speaking guide from Flores you get an intense insight into the different culture, rituals and customs of the still by tourists undiscovered eastern Islands of the Indonesian Province of Nusa Tenggara Timur.
» Ask us for details »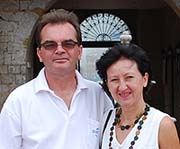 Gisela & Richard Janiszewski
We are on Flores to assist you. Benefit from our many years of experience on Flores Island.
»Contact »
Clients Testimonials
» in Detail »
30.11.16
... thanks for organising our trip at such short notice. We had a fabulous time and saw a lot of beautiful Flores. The trip was very well organised and our guide and driver, Kosmas and Hermus were terrific ... The Komodo trip was fabulous.
---
17.11.16
Alles hat hervorragend geklappt u wir konnten unseren Urlaub aktiv geniessen.
... Donato war jederzeit bereit uns zu unterstützen, gab Hinweise oder Empfehlungen um alles noch besser u komfortabler abzuwickeln, bzw dachte auch voraus.
Dazu hatte er die Geduld unendlich lange auf uns zu warten, bis wir alle Fotos im Kasten hatten, oder bis wir einfach lange genug in den Hot Springs von Malanage gelegen hatten um uns von der anstrengenden Besteigung des Gn Inerie zu erholen...
Dafür noch einmal vielen Dank u 5 Sterne!
---
1.11.16
Herzlichen Dank für die tolle Reise durch Flores und Komodo! Alles war wunderbar, angefangen mit der Planung und Organisation, Ihr seid auf alle unsere Wünsche eingegangen und es so individuell wie möglich gestaltet. Vielen Dank dafür! ... Wir sind begeistert von der Ursprünglichkeit von Flores, von der schönheit Natur, der freundlichkeit der Menschen. Die Komodo Inseln sind ein Traum, den man mindestens ein Mal im Leben erleben muss!
---
26.10.16
...We would like to tell you that the trip was perfect. Guide and chauffeur have been kind, efficient and most helpful. Your hotel selection met our expectation and everything was delivered without hassle or surprise. The cook on the boat to Komodo island was absolutely outstanding...
---
21.10.16
Wir bedanken uns an dieser Stelle für eine faszinierende Flores-Rundreise. Die Vorbereitung und Buchung mit Euch und Euren hilfreichen Tipps hat bereits sehr gut funktioniert. Das Gleiche gilt auch für die Rundreise selbst; die Insel und Ihre Bewohner sind zauberhaft; alles ist, wie erwartet, noch nicht so touristisch erschlossen und naturbelassen. Ursula (unser Guide) und der Fahrer haben zu jeder Zeit bestens für uns gesorgt und Ihre Sache hervorragend gemacht...
---
GUEST BOOK
Been traveling with us? Send us your own testimonial or feedback and tell us about your experience on Flores
»Make a entry »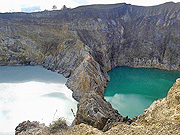 News
The volcano Kelimutu Lakes changed the colours again. Kelimutu realy bewitched ?