Selected Hotels, Resorts and Villas on Flores Island in Indonesia
Indulge yourself on a deserted private Island with white sandy beaches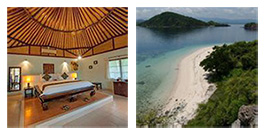 Angel Island Resort - Komodo National Park
Is located on the 15 hectare large Bidadari Island right on the edge of the Komodo National Park and approx. 20 minutes by boat from the harbor in Labuan Bajo on Flores. It consists of only 10 villas surrounded by gardens of Hibiscus flowers and with 3 white sandy beaches and excellent snorkelling grounds just in front of the beach
---
For relaxation and beach lovers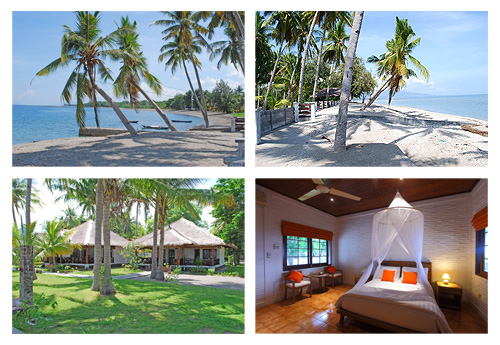 Amrita Resort - Maumere Bay
is a beachfront resort directly at the beautiful and quiet beach of Waiara 14 km east of Maumere. The sea is almost always as smooth as glass and offers an ideal setting for swimming and snorkeling in high and low tide. The resort is located on an areal of 2 hectar with many palms. The volcanic sand beach is gently-sloping to the sea. In the incredible silence of the beach and resort you can perfectly relax, watch the fishermen at their work or go for a long and lonely walk. In the evenings you can enjoy spectacular sunsets from the beach or the terrace of your Villa or Bungalow.
---
Tropical Beachfront Resort in Maumere Bay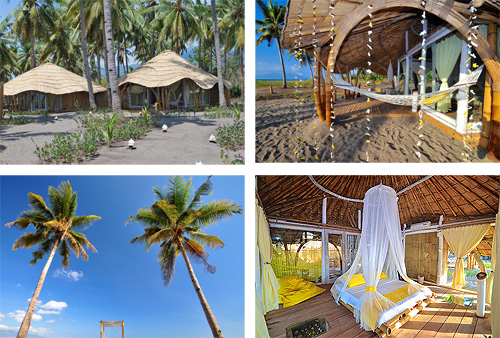 Coconut Garden Beach Resort in Maumere
This small, elegant resort with a lot topical flair enriched since September 2015 the resort and hotel landscape in Maumere Bay ! The resort is located directly on the quite beach with many palm trees and consists at the moment of 8 beautifully decorated and comfortable equipped bungalows . The Resort is located about 20 km east of Maumere.
---
Tranquil retreat to explore the dragons and diving in Komodo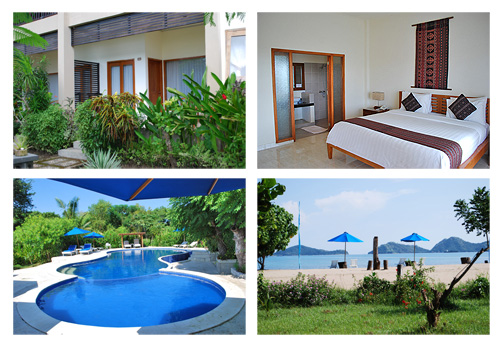 Puri Sari Beach Hotel - Labuan Bajo
is a small, charming Hotel located in a beautiful landscaped tropical garden of 3 ha, with direct access to the Pede Beach on the outskirts of Labuan Bajo. The Pool and well maintened Beach invite to relax. Puri Sari Beach hotel is an oasis of calm away from the not very inviting town Labuan Bajo, the starting point for the Komodo National Park, which is known for the world's largest lizards, as well as for its world-class dive sites.
---
For nature lovers and all who like an comfortable accommodation when visitig the volcano Kelimutu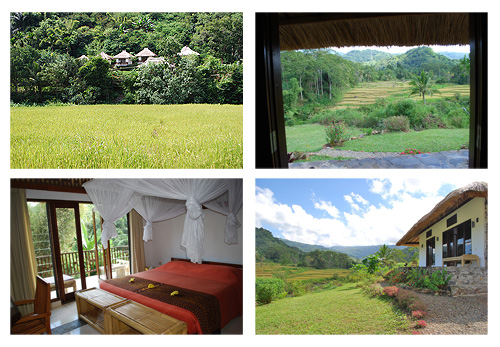 Kelimutu Crater Lakes Eco Lodge in Moni
is beautiful and idyllic located surrounded by jungle and views to rice fields.A monutain river flows through the resort. Kelimutu Eco Lodge is located just outside of the village Moni in calmly and secluded location at the foot of the Volcano Kelimutu. It is an ideal place for nature lovers and hikers who want to visit the 3-coloured crater Lakes of the volcano Kelimutu and explore the unique flora and fauna of Mount Kelimutu National Park.
---
Beach Resort with Dive Center in Maumere Bay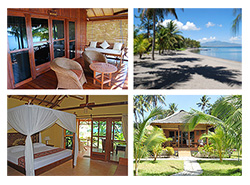 Sea World Club Beach Resort - Maumere
is a well established Resort with Dive Center and Restaurant directly located on Waira Beach 14 km east of Maumere. The resort is located on a spacious areal, has 400m beach front and offer 26 nice cottages of various sizes, facilities and in different price ranges.
---