Orang-Utan in Tanjung Puting National Park - in Kalimantan (Indonesia Borneo)
Tanjung Puting National Park in Central Kalimantan (Indonesia Borneo) is one of the few remaining places on earth where Orang-Utans can be seen in the wild. Beside of Orang-Utans eight other primate species and rich bird life can be observed here.
You will overnight in comfortable room in Rimba Orang-Utan Ecolodge in the middle of the rainforest . The Lodge can only be reached by boat from Kumai. The jetty of the lodge on the Sekonyer river is connected via series of covered boardwalks with the rooms, reception and restaurant. You can hear the cry of Gibbons and birdsongs and the resident Macaque monkey troop around. From the Lodge you travel by klotok (wooden boats) upstream, surrounded by rainforest , to a number of feeding stations in the Tanjung Puting National Park, the most famous of which is Camp Leakey, established in 1971 by Professor Birute Galdikas, a student of Professor Louis Leakey (together with Jane Goodall and Diane Fossey). As you walk through the rainforest you often see Orang-Utans and at Camp Leakey you sometimes see gibbons as well as many butterflies and birds. At the feeding stations you will get a wonderful opportunity to see these amazing primates up close.
You can also opt to stay overnight on the Klotok (houseboat) what is a near-natur Camping experience.
ITINERARY:
✈ Pangkalan Bun ➝ Tanjung Puting National Park ➝ Pangkalan Bun ✈
Day 1:
Arrival on Kalimantan Island ✈ Pangkalan Bun
You will be picked up from airport in Pangkalan Bun and overnight tonight in Arsela Hotel before you start tomorrow you jungle adventure and Orang-Utan Safari.
If your flight arrival in Pangkalan Bun in the morning your can skip the overnight in town and the Orang-Utan Safari can start stright from airport.
---
Day 2:
Pangkalan Bun ➝ Kumai ➝ Tanjung Harapan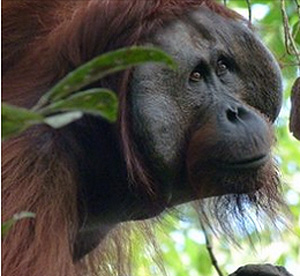 At 9am your Guide will pick you up in hotel and transfer by car to the National Park Headquarters in the port of Kumai where you board your "klotok", a traditional riverboat for a leisurely boat ride on the Sekonyer River. Get immersed in the sheer beauty of Tanjung Puting National Park with its nipah palm vegetation, proboscis monkeys, long tailed macaques and more.
Today we visit the Tanjung Harapan Feeding Station , where you experience your first encounter with critically endangered Orang-Utans. This station whas build in the late 70's and is located on the place of the original Sekonyer village. It is today rehabilitation center. At 3pm at the feeding station you can observe the majesticaly Oranutans in there natural envairoment. You can also visit the Sekonyer village over the river to get an inside of the daily live of the village.
Depending on your choice accommodation in comfortable Rimba Ecolodge surrounded by rain Florest on the edge of the Sekonyer River and only accessible by boat or you can also opt to stay on the Klotok (houseboat) what is a near-natural Camping experience.
---
Day 3:
Pesalat ➝ Camp Leakey
If you wake up early, follow the boardwalk from the Rimba lodge to the Lookout through deep Florest. Discover endemic birds and possibly wild Orang-Utans. Return to the lodge and enjoy breakfast. Then, board your river boat and travel 15 minutes to the Pesalat Reforestation Center. This Florest regeneration area offers a nice easy walk through peat swamp and dry land, nice birding, a medicinal plant area and it allows you to select saplings such as Ironwood and plant them. Talk to the local ranger and learn about the different stages necessary to grow ironwood. Clouded Leopard and Sun bears have occasionally been spotted in this area.
At 11:30 return to your boat and travel the Sekonyer River to Camp Leakey. Lunch is served on board. Camp Leakey is a landmark research and rehabilitation center established in 1971 by renowned primatologist, Dr Birute Galdikas and her former husband Rod Brindamour. Observe Orang-Utans in the wild and discover their vulnerability. Camp Leakey also offers an informed information center with a strong educational purpose.
Please follow recommendations and do not touch or disturb Orang-Utans(humans transmit diseases), do not eat or drink in front of them, keep the area pristine.
On the way back watch for proboscis monkeys (Nasalis larvatus) roosting in trees on the rivers edge.
Accommodation in Rimba Orang-Utan Ecolodge or on Klotok.
---
Day 4:
Departure from Kalimantan ✈ from Pangkalan Bun
After breakfast we take a leisurely boat ride before returning to Pankanlan Bun airport throu the port city of Kumai. Revive all your senses and let them retain the magic of Tanjung Puting National Park. Listen to the sounds of Kumai all day loudspeakers emanating from tall buildings where swift nests are being commercially harvested. The swift saliva is used for bird's nest soup and can reach 13 millions Rupiah and up per Kg. Indonesia is the biggest supplier and the trade has led certain swift colonies to be critically threatened.
Check-in/check-out times on Klotok are fixed (like in hotels). Depending on flight times we offer an interesting city tour either on the day of arrival or on the day of departure. The tour include visit to a Dayak village and longhouses, the Sultanate Palace, traditional market, a village on stilts and lunch in a local restaurant.
---