Flores From East To West - the scenic & cultural highlights on Flores - 4 days tour
The Lesser Sunda Island Flores in Indonesia, which has hardly been developed for tourism yet, is a paradise for lovers of beautiful green natural landscapes. Volcanoes and color-changing crater lakes, spider-web rice fields, ancient villages, jungles and beaches - these are the scenic and cultural highlights on Flores. For a Flores overland tour in a private car with driver, you should plan a minimum of 4 days with overnight stays in Moni, Bajawa and Ruteng. A trip from East Flores (Maumere) to West Flores (Labuan Bajo) or vice versa, starting in Labuan Bajo, is a varied and unforgettable journey.
ITINERARY:
✈ Maumere ➝ Kelimutu ➝ Bajawa ➝ Ruteng ➝ Labuan Bajo ✈
Day 1:
From Maumere to Moni, a village at the foot of the Kelimutu volcano
Pick-up from the airport or hotel in Maumere and drive to Moni. In Maumere and the surrounding area we take a look at one of the colorful markets , watch village women in the production of the traditional Ikat fabrics, and visit the Bugis and Bajo fishing village Wuring, where former sea nomads live in stilt houses above the water.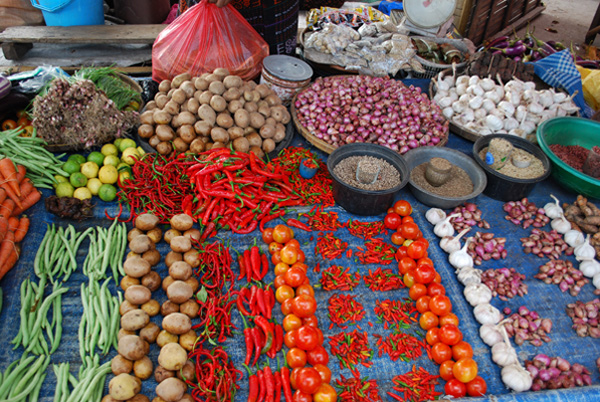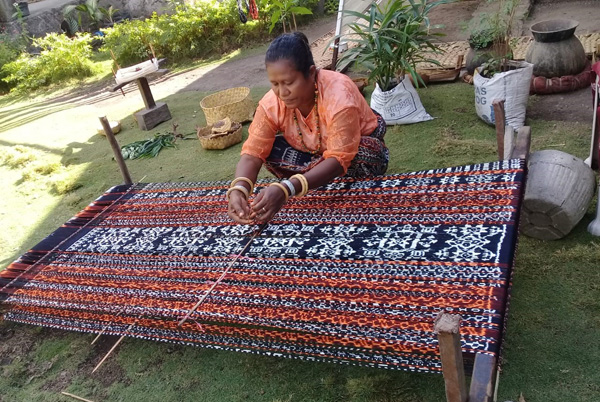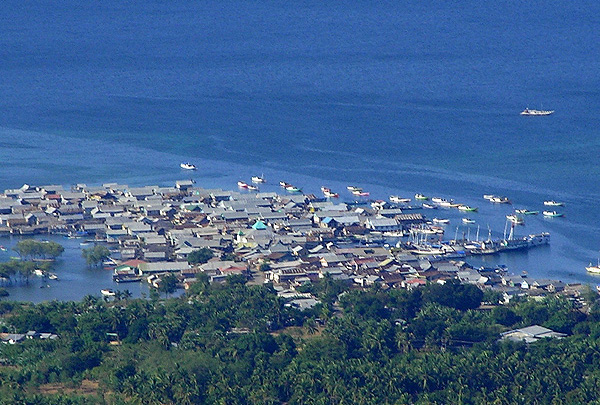 Afterwards we visit a 150 year old church in Sikka village and stop at the beautiful Koka Beach. At Koka Beach you have time to relax and swim. From Koka Beach it is still about 3 hours drive to Moni, where you will stay overnight in a bungalow in the idyllic located Kelimutu Eco Lodge in Moni .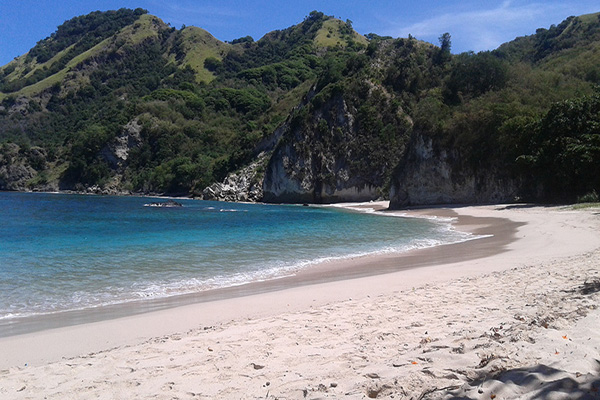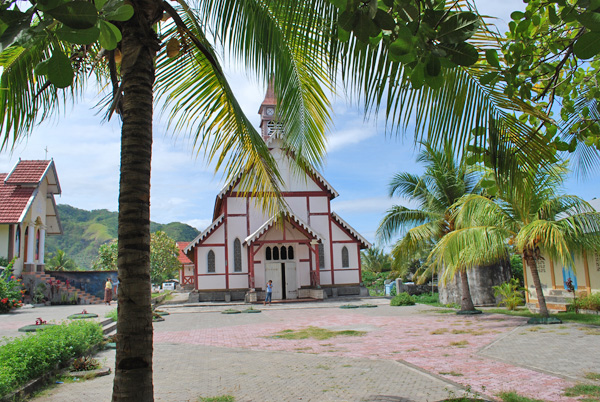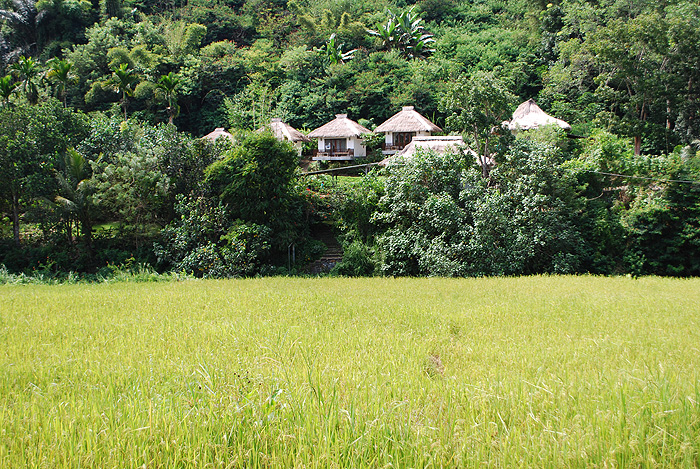 ---
Day 2:
The 3-colored lakes of the Kelimutu volcano ➝ Bajawa
Kelimutu is a volcano near Moni in central Flores in Indonesia. The Kelimutu volcano consists of three crater lakes that have different colors due to minerals. The colors of the lakes have changed drastically several times over the past few years.The locals believe that the lunar landscape of the craters is a hideout for the ghosts. The souls of the boys and girls live in the Tiwu Nuwa Muri Koo Fai, which changes the color between turquoise, deep blue and white-green. In Tiwu Ata Polo wait the sinners. This lake changes color between red and dark red, but was also green or even white. The souls of the ancients rest in Tiwu Ata Bupu. The now almost black lake was once dark blue, then light blue to white. The name Kelimutu itself means 'keli' = 'mountain' and 'mutu' = 'boiling' in the local language.
On this day we have to get up early in the morning and after a cup of coffee or tea we drive to Kelimutu volcano. After about 30 minutes we reach the parking lot and here a pleasant 1.5 km walk and 127 steps lead to the viewing terrace of the Kelimutu at an altitude of 1690 meters. From here you have a wonderful view of all three different colored crater lakes of Kelimutu and the surrounding landscape. At sunrise the mood is mystical. Around 10 o'clock fog or clouds can appear and prevent visibility, so it is important to be up no later than between 8 and 9 am. In the midst of this lunar landscape, the colors of the lakes look spectacular.
It is always a surprise what colors the crater lakes of the Kelimutu crater lakes are.
On the way back from Kelimutu to Moni, we drive by beautiful rice fields and tropical forests. Arrived in Moni, you can have breakfast in the hotel before we continue to the town Ende with stops at Market in Nduaria and rice fields near Detusoko. Then we visit the village Wologai with well-preserved traditional houses in the typical architecture typical of this Flores region.
Then we continue to Bajawa, the largest city in Ngada district in central Flores. We stop at Penggajawa Beach , which is covered with lots of colorful stones. The stones are mostly blue to turquoise, but there are also green and red stones in between. The stones are collected by the local people and sold as building material.
We reach Bajawa in late afternoon. Depending on your choice, your budget and availability, the overnight stay is in Hotel Happy Happy or in a Bungalow in Manulalu .
---
Day 3:
Bajawa ➝ traditional village Bena ➝ Ruteng
After an early breakfast we will take a trip to Bena, one of the best preserved traditional villages in Ngada district. The village consists of two rows of centuries-old grass-covered houses. In the center of the village there are sacrificial stones and cult houses that were formerly used for ritual ceremonies and offerings. The people who live and work in this heritage listed village today are Christians and yet some of the old traditions and ancestor worship are still alive today.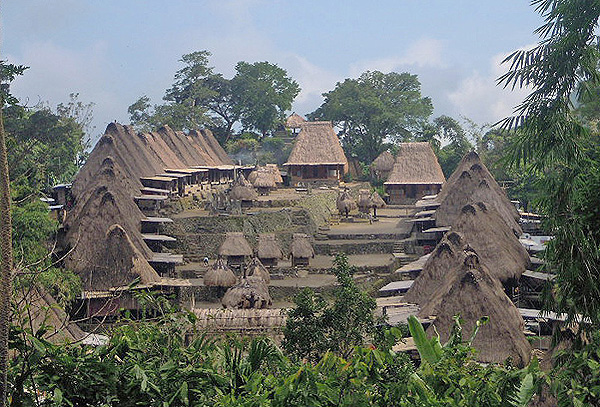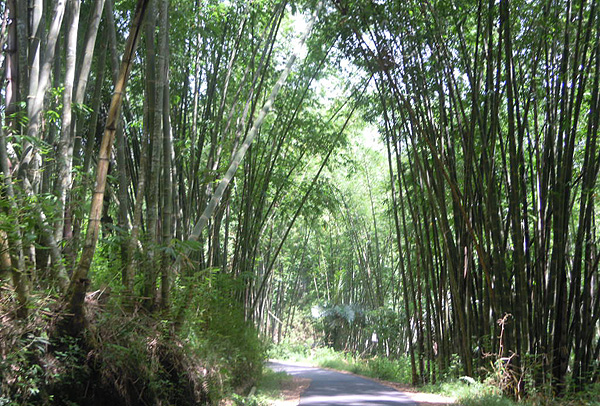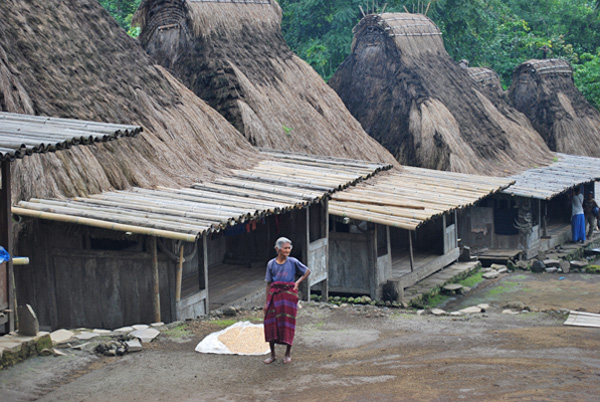 After visiting Bena and the smaller traditional village Luba and before we continue to Ruteng, we take a break in Aimere , where we visit a traditional Arak distillery and stop for a refreshment in the Malanage Hot Spring .
On the way to Ruteng we make a stop with a beautiful view of the Rana Mese Lake , a crater lake surrounded by dense jungle. In the afternoon we reach Ruteng and visit an Rumah Adat Ruteng Pu'u. Accommodation in Ruteng is, depending on your wishes and availability, in the Catholic convent of Santa Maria Berdukacita or in Spring Hill Boutique Hotel Ruteng
---
Day 4:
Ruteng ➝ Labuan Bajo
After breakfast we drive from Ruteng to Labuan Bajo. Our first stop is in Cancar, where we can see the " spider web rice field " (rice fields that are laid out like a spider web), also called Lingko. Then we drive to Todo (approx. 2 hours drive) in south-central Manggarai. It is one of the few opportunities to see the traditional ceremonial houses of Mbaru Niang . In the past, Todo was also the center of the Manggaraian Kingdom and the home of the royal clan.
As an alternative to Todo, you can visit Liang Bua (Hobbit Cave) . An impressive archaeological discovery was made in this large cave in 2003 when the skeletal remains of a small humanoid, the so-called Homo Floresiensis, were excavated. There are some explanatory boards on site, but otherwise the cave is empty and the access road is in poor condition, but the landscape is beautiful.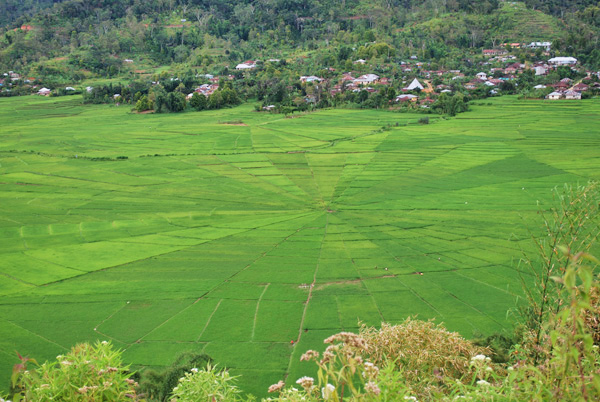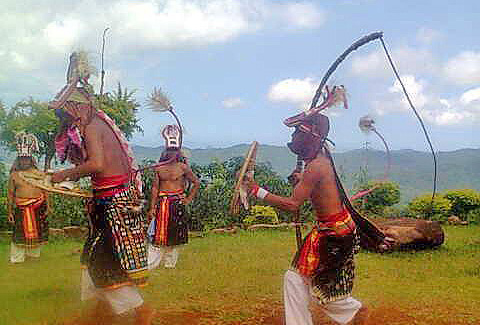 If you spend 2 nights in Ruteng, you can visit both sights and do a hike from Hobbit Cave to Tengkulese waterfall . Optionally and at an additional cost, we can stop in Melo, where we can organize a demonstration of the ritual Caci Whipping Dance .
The tour ends in Labuan Bajo with transfer to the hotel, port or airport in Labuan Bajo.
---
This tour can also be done in the opposite direction, ie. start in Labuan Bajo and end in Maumere.
---