The Komodo National Park in Indonesia
Komodo National Park consists of three large islands (Rinca, Komodo and Padar) and numerous smaller volcanic islands between the islands of Sumbawa and Flores in the center of the Indonesian archipelago. Komodo National Park is famous for the Komodo giant lizards, found nowhere else in the world, and rich coral reefs with great marine life and a variety of scenic beaches. The island of the huge Komodo National Park are protected as a UNESCO World Heritage Site.
On our private Komodo tours you can customize the sailing route in Komodo National Park. There are various options for this. We offer day trips to Komodo National Park or multi-day sailing trips on a Phinisi boat. All tours are private tours and can be customized.
---
Komodo Tour - 3 Days/2 Nights
ITINERARY:

✈ Komodo Airport/Labuan Bajo (Flores) ➝ Day excursion to Komodo National Park on Rinca Island ➝ Labuan Bajo ✈
Day 1:
Getting There - Flight to Labuan Bajo on Flores Island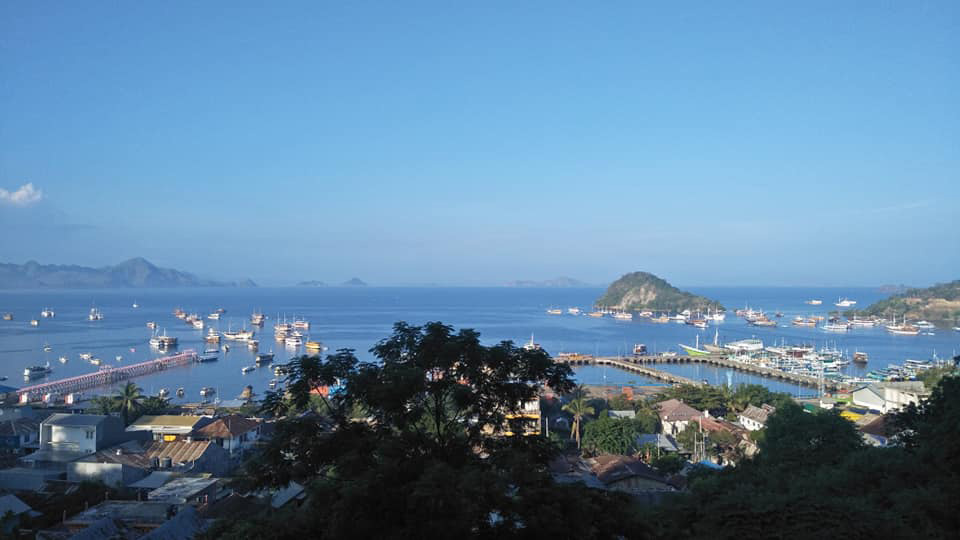 The small town of Labuan Bajo in the west of the island of Flores is the gateway to Komodo National Park and the starting point for our boat tours. The formerly sleepy fishing village now offers a good tourist infrastructure. There are several daily flights from Bali to Labuan Bajo and also direct flights from Jakarta and Surabaya on the island of Java. The flight time from Bali is approximately 1.5 hours.
Our first choice for accommodation in Labuan Bajo is the beautiful Puri Sari Beach Hotel just outside of Labuan Bajo, directly on the sandy beach, surrounded by extensive gardens and with a pool.
---
Day 2:
Day trip in Komodo National Park
In the Komodo National Parks on the islands of Rinca and Komodo, the seemingly prehistoric largest lizards in the world, the Komodo dragons, live in the wild. On a boat day trip from Labuan Bajo you can discover the islands of the Komodo National Park and will almost certainly see the Komodo dragons. Boat excursions are conducted with a private traditional wooden boat or with a corresponding supplement with a private speedboat.
Experience Komodo dragons up close on Rinca Island
After an early morning hotel pickup, we drive to Labuan Bajo Port where we board a boat and travel approximately 2 hours to Rinca Island in Komodo National Park. Rinca Island has a high density of the Komodo population and the probability of seeing free-ranging Komodo dragons is very high.
Upon arrival at Rinca we start a 1-3 hour hike through a savannah-like landscape dotted with Lonta palms. Along the way we will not only see the Komodo dragons but we will also see other animals such as Timor deer, buffalo, monkeys, wild boar and exotic birds. From the slopes there are breathtaking views. After returning to the boat, lunch is served and we cruise to Menjerite and yet another snorkeling spot Kelor Island for swimming, snorkeling or just relaxing. In the late afternoon we drive back to Labuan Bajo.
If you are picked up from the airport or hotel in Labuan Bajo in the course of the morning, then there will be snorkeling stops first and then a hike on Rinca Island in the afternoon.
The boat trip can also be done with a private speedboat with a corresponding surcharge, then an extended program with more opportunities for snorkeling or visiting the viewpoint on Padar Island and Pink Beach is possible. With itinerary as follows: Labuan Bajo ➝ Padar Island ➝ Komodo Island ➝ Pink Beach ➝ Manta Point ➝ Labuan Bajo
---
3. Tag:
Departure from Flores ✈
The tour ends with the transfer to the airport in Labuan Bajo. If your flight is in the afternoon, then there is the possibility to take a half-day trip to Melo in the morning of the day of departure, where we can organize a performance of the ritual Caci whip dance and a visit to Batu Cermin Cave
---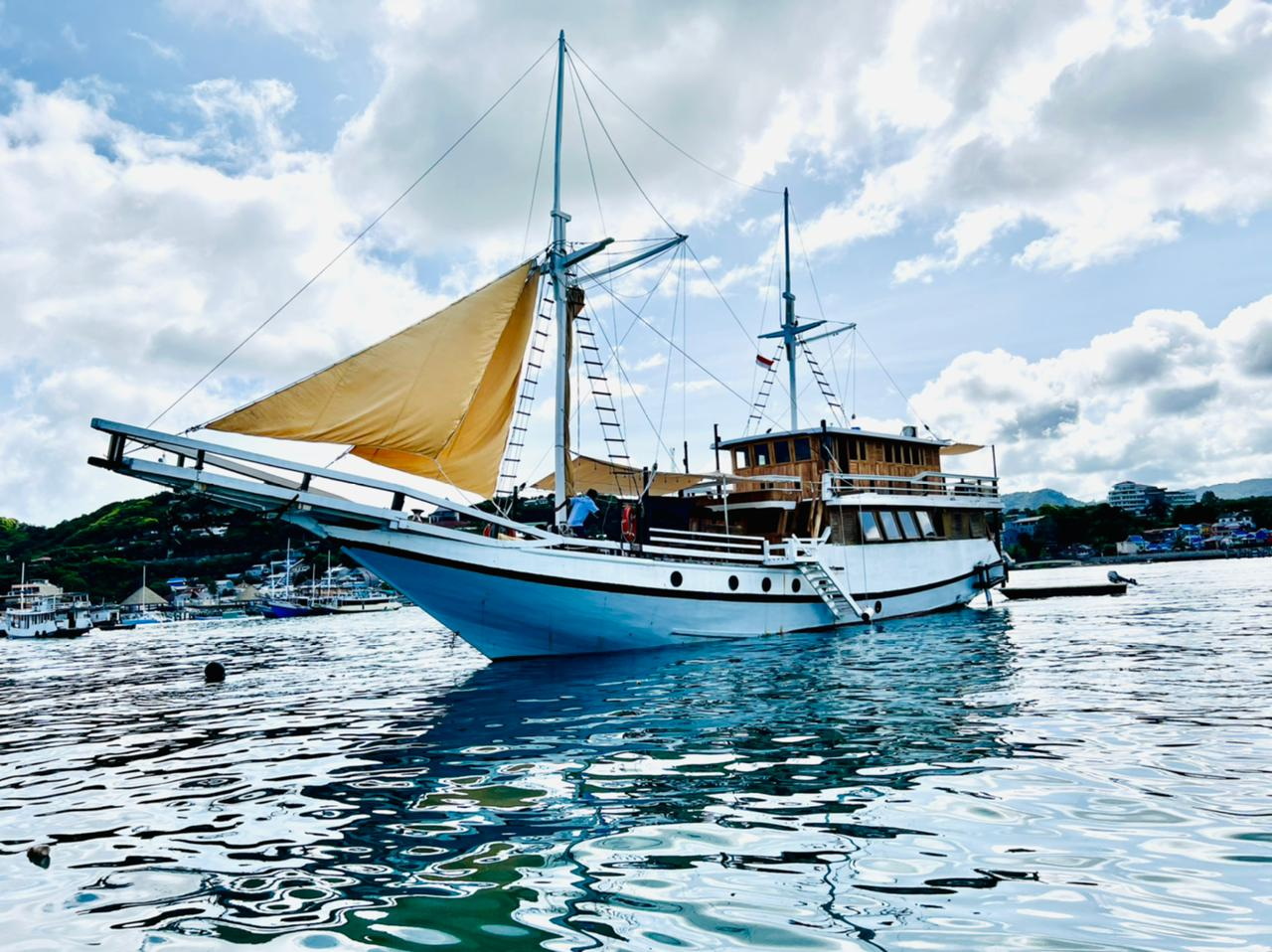 Komodo Tour Package - 3 Days/1 Night on Boat, 1 Night in Hotel
Enjoy the luxury of cruising through Komodo National Park on a private Phinisi boat. Komodo dragons, fantastic beaches and a unique and diverse underwater world that can be discovered while snorkeling.
You can customize the sailing route individually. Below is an example of a 2 day/1 night boat tour.
For enthusiastic snorkelers (or divers) we recommend extending the Komodo Tour to 3 or 4 days on the boat. The underwater world of Komodo National Park is truly spectacular
ITINERARY:
✈ Komodo Airport/Labuan Bajo (Flores) ➝ 2 Days/1 Night Boat-trip in Komodo Nationalpark ➝ Labuan Bajo ✈
Day 1:
Labuan Bajo ➝ Kelor Island ➝ Menjerite ➝ Rinca Island ➝ Kalong Island
Pick up from airport in Labuan Bajo and after 15 minutes drive we reach the the harbor in Labuan Bajo. Here we board your private boat with cabins for 2 days sailing in Komodo National Park. First, we sail about 1 hour to Kelor Island, where you can snorkel. After another 30 minutes, we reach Menjerite, one more place for snorkeling. During a further 1 hour sail we reach Rinca Island. Here we make a hike of about 1.5-2 hours with a Ranger of the National Parks and you will see Komodo dragons and other animals such as wild boars, Timor deer and monkeys. There are also breathtaking views of the slopes. Then we sail to Kalong Island, where you can see a large colony of flying foxes as they leaves at dusk the Island in all directions. Overnight on boat.
---
Day 2:
Komodo Island ➝ Pink Beach ➝ Manta Point ➝ Labuan Bajo
After breakfast on the boat, we start very early a 2 hour hike on Komodo Island to see Komodo Dragons when they leave there hideouts and go into the sun. After returning to the boat we sail first to Pink Beach, where you have time to relax and have snorkeling and then continue to Manta Point to snorkel with Manta Rey. On the way back to Labuan Bajo, there is still possibility to snorkel or you can hike to the view point of Padar Island. Late afternoon we arrive back in Labuan Bajo. Accommodation in Puri Sari Beach Hotel in Labuan Bajo
---
Day 3:
The tour ends with the transfer to the airport in Labuan Bajo.
---
Explore Flores Island after your Komodo Tour: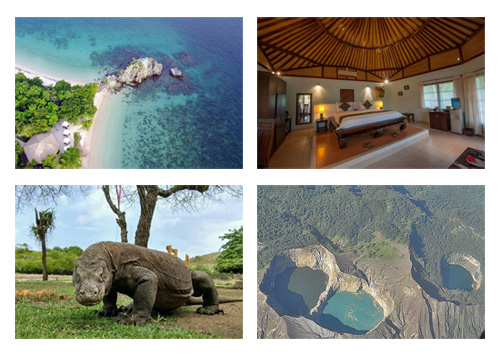 ---
Flores & Komodo Deluxe Tour
6 days/ 5 nights from/to Bali
With a flight between Labuan Bajo and Ende, both main attractions of Flores, the 3-colored lakes of the volcano Kelimutu and a visit to the Komodo National Park can be combined without long car journeys. With our Deluxe Tour we offer a tour variant with beautiful accommodation in boutique villas.
---
Holidays in Komodo National Park
Komodo dragons, dream beaches & snorkeling. Complete your sailing trip in Komodo National Park by staying at an island resort on the edge of Komodo National Park with just 10 luxurious villas, white sandy beaches and gorgeous snorkeling reef from the beach