Wae Rebo Trekking Tour - from/to Labuan Bajo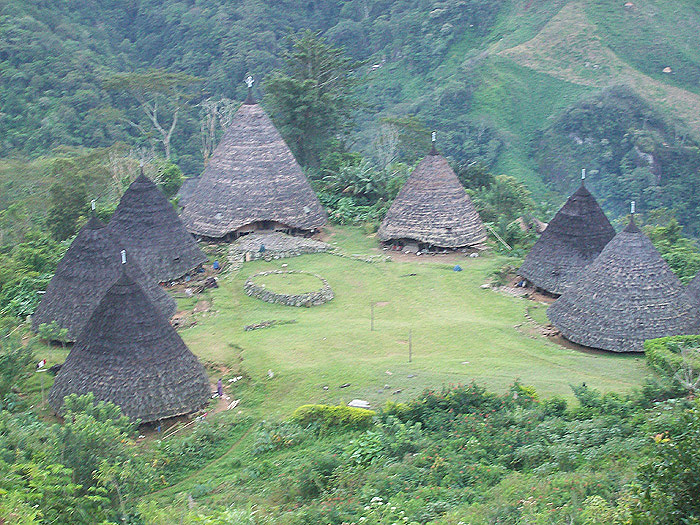 Wae Rebo is an old village with unique architecture, which is isolated located in a beautiful mountain landscape in the Manggarai in West Flores. Wae Rebo village consists of 7 traditional circular and cone-shaped buildings called Mbaru Niang, which means in the Manggarai language "Drum houses".
The Wae Rebo village is only reachable after a 3-4 hour hike (depending on your physical condition). The village offers visitors not only the opportunity to see authentic Manggarai architecture but also to participate in the life of the local community. The hike leads along a narrow path through dense rain Florest with various ferns, orchids and palm trees and we will be accompanied by the singing of many different birds.
ITINERARY:
✈ Komodo Airport/Labuan Bajo (Flores) ➝ Denge ➝ Wae Rebo ➝ Ruteng ➝ Labuan Bajo

---
Day 1:
Labuan Bajo ➝ Dintor
From Labuan Bajo, we drive to Dintor a village near the South coast of Flores. It's a very nice but long drive passing many green rice fields. In Dintor you will stay overnight in nice located but very simple local guest house/homestay.
---
Day 2:
Trekking Wae Rebo
On this day, you make a beautiful but demanding hike through lush green mountain country to the village of Wae Rebo. In the past the people of Manggarai lived in huge round houses with space for up to 200 people. When the Dutch came, these homes were demolished because they found them to by not hygienic. So, this ancient treasure was lost. But hidden in the mountains a couple of this mythical houses have been preserved and renovated by the local community together with a team of architects based in Jakarta and the Indonesian Government.
Wae Rebo is tucked away in a spectacular surrounding and is only accessible on foot. You will be welcomed as guests of honor with a special ceremony.
You stay the night in this village and have plenty of time to see the local way of life. Most people here work from early morning until the dusk in the gardens, harvest coffee or are busy with the traditional processing of coffee beans. You will be overwhelmed by the calm and the beauty of this place. There is no electricity, no cell phone signal, no Mopeds. You will overnight at the Mbaru Niang, dine together with the Wae Rebo community and sleep on a Tikar, a woven mat made of pandanus leaf and get an impression of how was the life as extended families lived under one roof.
---
Day 3:
Wae Rebo - Denge - Ruteng
After breakfast we start the hiking back to Denge. The descent is shorter as the way up yesterday. From Denge we drive to Ruteng. In Ruteng you will spend the night in a beautiful, small country hotel surrounded by a well-tended gardens.
---
Day 4:
Ruteng ➝ Spider rice fields ➝ Labuan Bajo
After breakfast, we drive from Ruteng to Labuan Bajo. Our first stop is in Cancar to see the spider web rice field called Lingko. Lingko is a typical farmer land in the group or clan belong to Manggaraian (west part ethnic group) when they divide land.
Than we continue to Liang Bua (Hobbit cave) . This large cave was the site of a stunning archeological discovery in 2003, when the skeletal remains of a small humanoid were unearthed, the so-called Homo Floresiensis. There is a small museum on site with some displays. Otherwise the cave is indeed empty.
Optional and with additional charge we can visit Melo to see performance of Caci - ritual whip fight dance . Tour ends in Labuan Bajo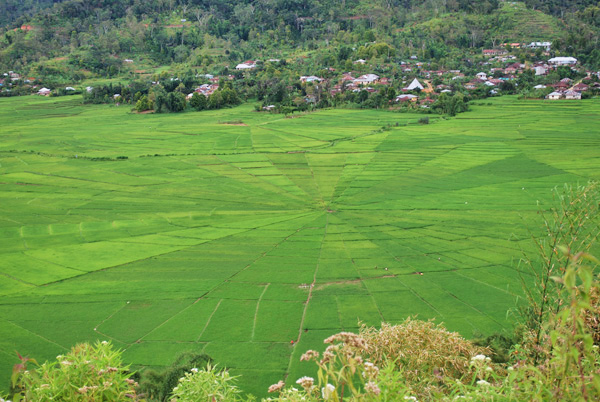 ---
Most popular travel combinations with Wae Rebo Tour: